How to Exhibit
Important Notes
1. Please note that the official mail domain names of XIAMEN STONE FAIR are stonefair.org.cn and cxisf.com. Please do not trust any mails sent by other domain names.
2. The information of official bank accounts of XIAMEN STONE FAIR BANK ACCOUNTS is as follows:
For USD:

For CNY:


Beneficiary Name:

Xiamen Jinhongxin Exhibition Co., Ltd.

Beneficiary Account No.:

35114577000220100209

Beneficiary Address:

198#, Huizhan Road, Siming District, Xiamen, Fujian Province, China

Beneficiary Bank:

China Construction Bank Xiamen Branch

SWIFT BIC: PCBCCNBJSMX


Intermediary Bank:

Bank of America N. A. New York Branch

SWIFT BIC: BOFAUS3N


开户名称:

厦门会展金泓信展览有限公司

开 户 行:

建行厦门市前埔支行

银行帐号:35101514001050000589





















Booth Application Procedures
Earlier Application, Better Location!
1. Please register online HERE.
2. After the application is accepted, Floor Plan with available booths will be sent to you by Email.
3. A sales representative will help you to select a booth.
4. Sign the Booth Contract.
5. 50% Nonrefundable Deposit of the total booth cost should be paid within 3 working days after the contract is signed. The booth shall not be reserved without receipt of relevant payment. All banking charges, if any, are to be borne by the exhibitor.
6. Balance of the booth cost should be paid before Jan. 31, 2021.
Exhibition Range
Stone Products: Countertop, Special-shaped Stone, Stone Furniture, Tombstones, Stone Sculpture, Landscape Stone, Riverstone, Cobble Stone, Mosaic;
Raw Block: Granite, Marble, Limestone, Sandstone, Slate, Volcanic, Artificial Stone
Machines and Tools: Mining Equipment, Processing Machinery, Fork Loading Machine, Diamond Tool, Dry Hanging Accessories, Monitoring Instrument;
Stone Conservation: Abrasive, Cleaning Equipment, Care Products, Binder, Colorant;
Service, Trade Press, Associations


Space Cost
Shell Scheme
USD360/m2
9m2, net dimension: 2.96m×2.96m
Indoor Space
(Unequipped, carpet only)
USD350/m2
Under 36m2
Indoor Space
(Unequipped, carpet only)
USD340/m2
Minimum 36m2
Outdoor Space
(Unequipped, carpet only)
USD 200/m2
Minimum 36m2
Note:
Shell Scheme is a modern aluminum structure with panel walls. Each shell scheme (9m2) is equipped with panel walls, carpet, 1 table, 2 chairs, 2 spot lights, 1 5A /220V socket, 1 waste basket, 1 facial board with exhibitor name.
Raw Space is equipped with carpet only. Exhibitors should design and construct the stand on their own. The maximum floor load is 3t/ m2. Overweight articles will be denied entrance.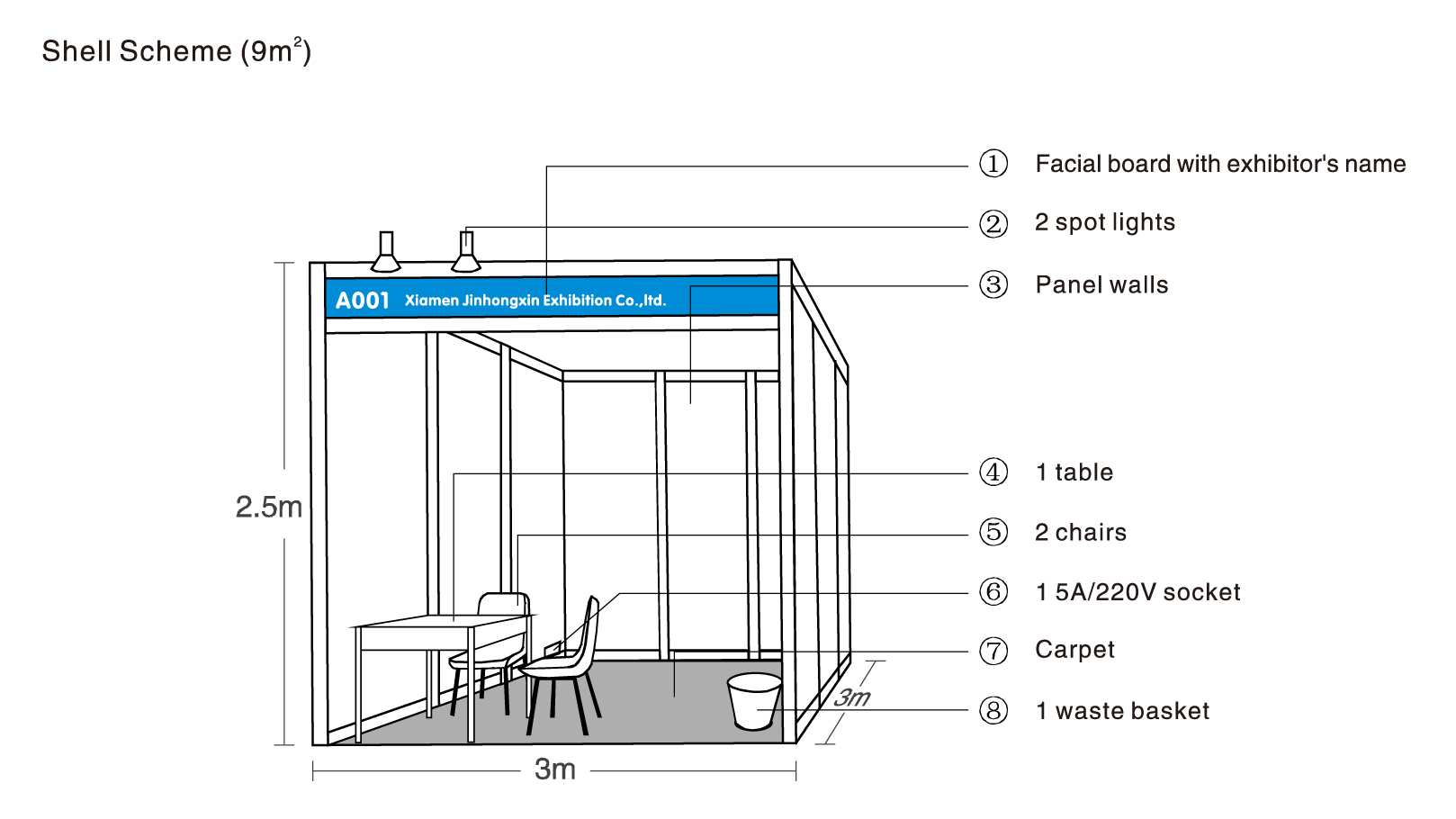 Preparation

for Exhibiting
After booth reservation, please follow the instructions below to prepare for exhibiting.
1. Log in Exhibitor Area and submit the required information (including catalogue entry, exhibitor pass registration etc.) before deadlines. Account and original password will be provided by the Organizing Committee.
2. Contact Freight Forward to arrange the shipping and custom clearance. Make sure the exhibits will arrive on time.
3. Prepare the samples, including products, brochures, business cards, etc.
4. Booth Setup: exhibitors with raw space need to entrust a booth contractor for design and setup.
5. VISA to China: Due to various uncontrollable factors caused by the global pandemic, the visa policies of China is not fixed now. We cannot provide the visa invitations at this moment. We will pay close attention to the news. Any more enquires please write to: info@cxisf.com
6. Flight and Accommodation: hotel booking service with favorable price will be started in February 2021.
ATTENTION!
Organizing Committee and its authorized agencies have the right to use likeness of exhibitors, images of activities, booths and exhibits in any photographic or video coverage of the event, including post-show activities.