How to Exhibit
Important Notes
1. Please mind that the official mail domain names of XIAMEN STONE FAIR are stonefair.org.cn and cxisf.com. Please do not trust any mails sent by other domain names.
2. XIAMEN STONE FAIR has only two USD official bank accounts and one RMB bank account.
For USD:
For RMB:
USA OFFICE
China Office
China Office
Beneficiary Name:
Jin Hong Xin Exhibition USA LLC
Address:
8288 Lake City Way NE, Seattle, WA 98115
Account Number: 8665003755
Receiving Bank Name:
East West Bank
Receiving Bank Address:
135 N. Los Robles Ave., Suite 600, Pasadena, CA 91101
Bank Routing Number:
(ABA#) 322070381
Bank Swift Code: EWBKUS66XXX
Intermediary Bank:
Bank of America N. A. New York Branch
SWIFT BIC: BOFAUS3N
Beneficiary Bank:
China Construction Bank Xiamen Branch
SWIFT BIC: PCBCCNBJSMX
Beneficiary Name:
Xiamen Jinhongxin Exhibition Co., Ltd.
Beneficiary Account No.:
35114577000220100209
Beneficiary Address:
198#, Huizhan Road, Siming District, Xiamen, Fujian Province, China




开户名称:
厦门会展金泓信展览有限公司
开 户 行:
建行厦门市前埔支行
银行帐号:
35101514001050000589
Booth Application Procedures
Earlier Application, Better Location!
1.Please register online HERE. You will receive an email reply if your application was approved by the organizing committee.
2.Review the FLOOR PLAN and select your preferred booth locations from the available ones.
3.Fill in the EXHIBIT SPACE CONTRACT, stamp it with your authoritative seal, and email it to the Organizing Committee. The EXHIBIT SPACE CONTRACT is effective after confirmed by the Organizing Committee by email to you.
4.Remit at least 50% of the total space cost as DEPOSIT to the Organizing Committee within 5 working days. Email your remitting bill for checking. The booth shall not be reserved without receipt of relevant costs. All banking charges, if any, are to be borne by the exhibitor.
5.Further exhibitor information submission requirement will be sent to your email. Acoount and password of Exhibitor Area (http://m.stonefair.org.cn) will be provided by us.
6.All the balanced payment should be paid up before Nov. 15, 2015.
Space Cost
Shell Scheme
USD360/m2
9m2, net dimension: 2.96m

×

2.96m
Indoor Space
(Unequipped, carpet only)
USD350/m2
Under 36m2
Outdoor Space
(Unequipped, carpet only)
USD340/m2
Minimum 36m2
Outdoor Space
(Unequipped, carpet only)
USD 200/m2
Minimum 36m2
Note: The shell scheme is a modern aluminum structure with walls. Each shell scheme is equipped with 3 panel walls, 1 table, 2 chairs, 2 spot lights, 1 5A /220V socket, 1 waste basket, 1 facial board with exhibitors' name.
Raw space is only available for exhibitors who wish to have stands of their own design constructed. The maximum floor load for the exhibition halls is: 3T/ m2. Any overweight articles will be denied entrance.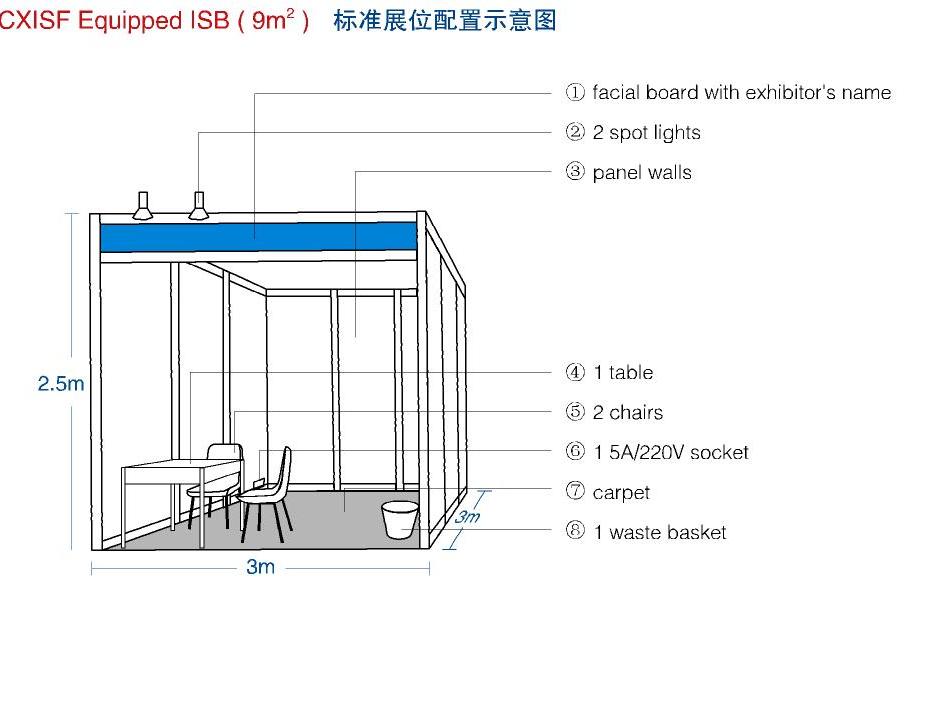 Guide of Exhibiting Preparation
After booth reservation, please take the following steps in time to prepare your booth for showing.
1. Exhibitor Login account will be given to you. Please follow the guide and finish the required information submission (including catalogue entry, Exhibitor Pass Registration etc.) before the deadline.
2. Prepare the Exhibits including your products, brochure, business cards, etc. before Jan. 5, 2016.
3. Contact Freight Forward to arrange the shipment and custom clearance before Jan. 10, 2016.
4. Booth Decoration: If your space is raw space without facilities, you need to contact with a booth-decoration company for a design of your booth before Feb. 15, 2016. If your space is a standard booth (Shell Scheme) with facilities, you don't need to worry about this item.
5. Prepare your VISA to China: It is recommended to apply for the VISA before Jan. 30, 2016. We can provide VISA Invitation Letter for you within 5 working days. Please kindly note that the Chinese Embassy will have a Chinese New Year Holiday from February 5– February 14, 2016.
6. Arrange the Accommodation & Flight Ticket: You can check the favorable prices of the hotels in Exhibitor Login and book with our assistance.
Our Services
We provides the following services:
1. Arrange the consignment of exhibits and customs clearance;
2. Catalogue Entry;
3. Introduce professional designing companies for special booth decoration;
4. Provide the VISA Invitation Letter;
5. Arrange accommodation with the favorable prices;
6. Introduce part-time working staffs & interpreters.
ATTENTION!By participating in Xiamen Stone Fair, VISITORS and EXHIBITORS are aware and agree to be photographed and filmed during the event and that these images may be used by the organizers to promote the industry and the event.