Review Xiamen Stone Fair 2019
2019-07-10
The 19th China Xiamen International Stone Fair was grandly held from March 6th to 9th, 2019. Served as a one-stop procurement and information exchange platform, the fair maintains its advantages of gathering various and high quality products as of before. Meanwhile, concurrent exhibitions and conferences keep bringing new design ideas and insightful knowledge that made Xiamen Stone Fair more than just a trade fair.
Xiamen Stone Fair ranks top as the largest scale trade fair within the industry. In 2019, 25 pavilions were open as exhibition zones, covering 180,000 m2 show floor space with 9,300 standard booths, in which stone area occupied 67.15% while machinery and tools area accounted for 31.28% with an increase of 4% compared with last year.
Thanks to the geographical advantage of Xiamen Port, global stone purchasers' constant attention and huge visitor database accumulated for decades, Xiamen Stone Fair has become the first choice for domestic and foreign companies to explore the market. This year, more than 2000 exhibitors from 57 countries and regions gathered here, in which domestic exhibitors accounted for 69.15% while international exhibitors accounted for 30.85%.
According to the post-show survey, 98.21% exhibitors are willing to continue participating in Xiamen Stone Fair 2020, and 95.81% exhibitors are satisfied with the effect of the fair.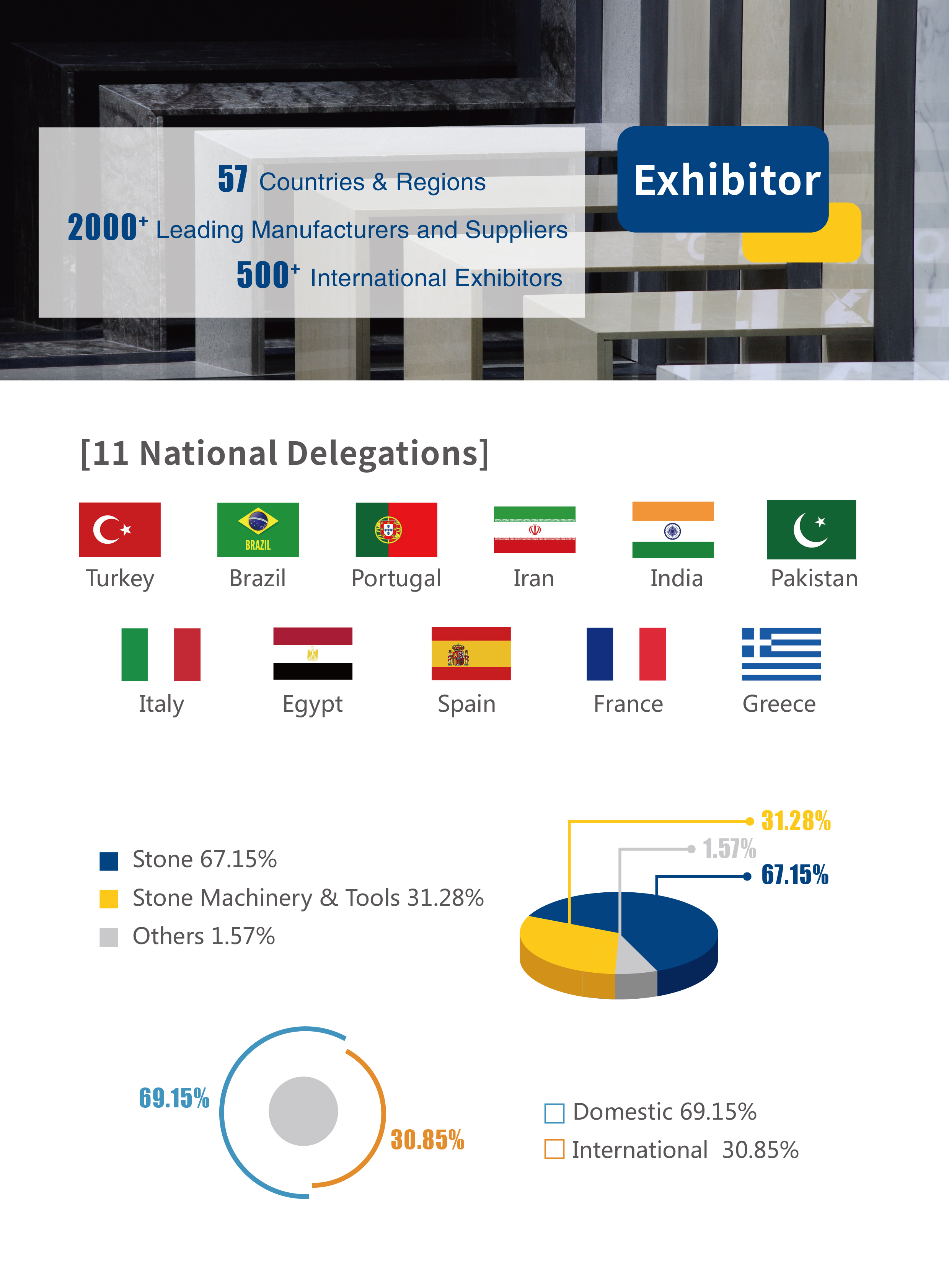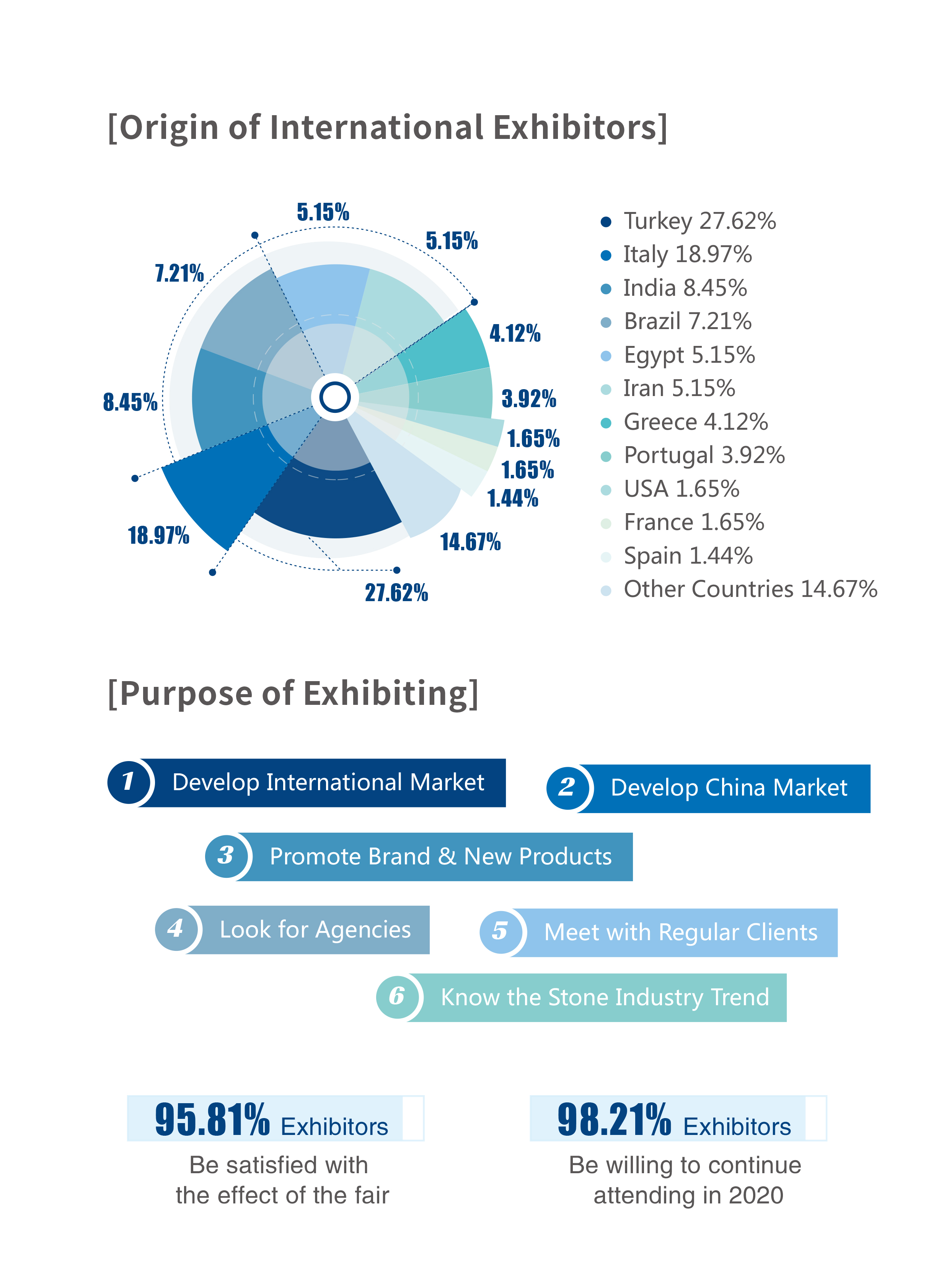 With respect to stones, exhibitors start to pay more attention on design and multiple applications of stone, other than simply displaying project case and product itself, thereby, making the fair with artistic amenity. The mode of "space + material selection" connects stone with architectural design, home and living and landscape design by visualizing stone as specific elements in real life, and enhances the visiting experience.
In machinery and tools area, exhibitors bring leading products and technologies to the fair showcasing the general trend of intelligentization, automation and pro-environment. Meanwhile, "Made in China" products and technologies perform well during the 4-day event that attracts more international exhibitors to turn sights to machinery and tools from Chinese manufacturers.
In 2019, there were 150,520 professional visitors from 148 countries and regions attending Xiamen Stone Fair. The amount of pre-registered visitors increased by 10.6% compared with that of last year.
As for industrial segment, traditional industries like quarrying, manufacturing, processing and sourcing occupied over 50% of total professional visitors, in which visitors from design related domain witnessed a highest growth of 5.98%. Moreover, aiming at the theme of "design in stone", the concurrent design exhibition – Stone Infinite – was all-round upgraded in 2019, with several design forums. Xiamen Stone Fair has become a big gala that seamlessly integrates trade fair and conferences.
According to the post-show survey, 96.09% visitors achieved their visiting expectation and 98.21% indicated that they will attend Xiamen Stone Fair in 2020.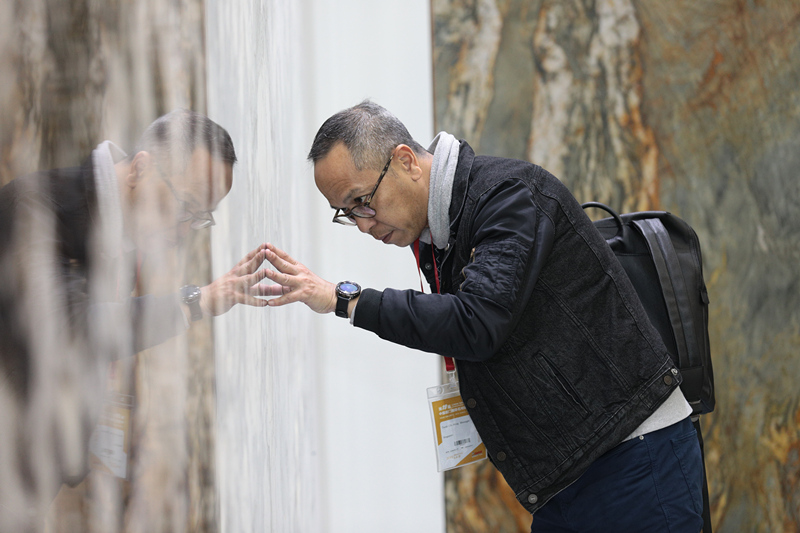 Xiamen Stone Fair is dedicated to build a platform for not only networking with global company representatives, introducing latest innovation, but also educating all segment of the industry and exploring more possibilities of stone application. Featured events including World Stone Congress (WSC), Stone Infinite – product design show, Launch Out @XSF – new product launching area are concurrently held to meet the needs of stone practitioners from each segment.
We would like to extend our heartfelt gratitude to you all in achieving Xiamen Stone Fair a world-class grand event. The fair is stepping into its 20th anniversary and we are glad to announce that Xiamen Stone Fair will be re-scheduled in March 16-19, 2020. Hereby, we sincerely invite you to celebrate the new era with us. See you in 2020!